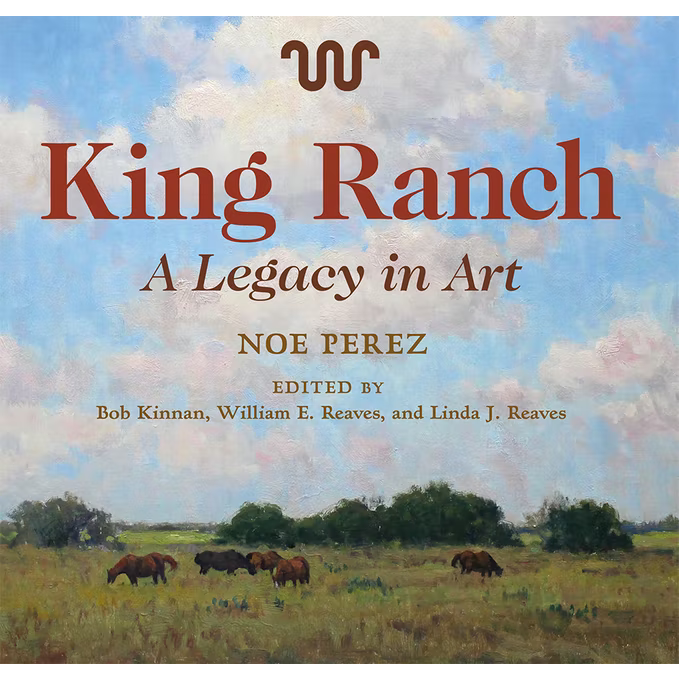 King Ranch - A Legacy in Art
9781623499525
Noe Perez
Hardcover
Covering 825,000 acres in the Coastal Plain and Brush Country of South Texas, King Ranch, established in 1853, looms large in Texas and American history. Since its founding by the energetic and visionary Richard King, it has indelibly captured for generations the essence of the American West. As Tom Lea asserted in his epic 1953 history, the spirit of the place "is alive in the land itself, in the far quietness of growing grass and grazing herds."

In King Ranch: A Legacy in Art, editors Bob Kinnan, William E. Reaves, and Linda J. Reaves have assembled a team of collaborators to present a beautiful, informative account of the ranch and its place in the artistic heritage of the region. Pairing original paintings by artist Noe Perez with insightful essays from curators Bruce Shackelford and Ron Tyler, this book celebrates the many ways "King Ranch culture" has enriched appreciation for the decorative, practical, and fine arts in Texas and the greater American West.
Real-time shipping quotes and carriers are found in the checkout page.
In-stock items usually ship within 24-48 hours of order. Out of stock, custom and special order items will ship as soon as available and an email notification will be sent for items not available for immediate ship. If you have a requirement for an item on a specific date, please note that on your order and if we can't ship immediately, we will be in touch to let you know to choose an alternative. 
Custom Orders usually run 4-6 weeks depending on how busy our custom shop is.  If you need by a certain date, please contact us at customcowboy@vcn.com or 1-800-487-2692 to inquire about specific time frames.
We ship directly from our brick and mortar store in Cody Wyoming.