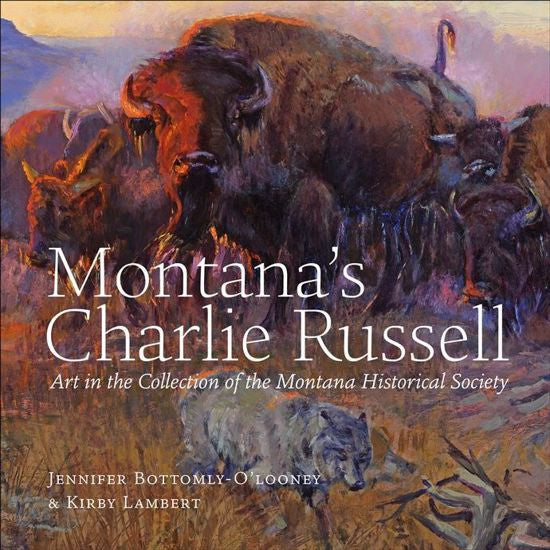 Montana's Charlie Russell: Art in the Collection of the Montana Historical Society
9781940527109
In the pages of Montana's Charlie Russell, the Montana Historical Society offers you its collection of Russell art. Each of the 230 artworks has been painstakingly photographed using state-of-the-art equipment to show off the masterful details of Russell's brushwork. The colors have been carefully proofed against the originals for a perfect match. The result is a catalog of Russell's art as you've never seen it before.

Stare down the herd bull as a hundred buffalo surge out of the Missouri River bottom. Jump clear of a cowboy on a twisting bronc that scatters the morning coffee and biscuits. Feel the spine-tingling drama as Indians pause behind a rocky outcropping, setting an ambush for white travelers in the valley below.

Through Charlie's art and through text written by Russell experts Jennifer Bottomly-O'looney and Kirby Lambert, you will experience Montana as Charlie knew it. From Montana he learned how to shift for himself in rough country. And wherever Charlie went, his hands were busy—sketching or painting on any scrap he could find, or modeling bits of wax into tiny figurines. His experience as a cowboy gave these artworks an authenticity not found in the work of any other western artist.

Even as the Montana frontier transformed itself into a modern state, Charlie lived for the past, capturing in his artwork "trails that had been plowed under." The buffalo days and the free range have long since ended, but Charlie's art endures. Through his work, you can experience the Montana that was—and the best collection of that work is found in the galleries of the Montana Historical Society and in Montana's Charlie Russell.

Hardcover, 432 pages, color photos.

Real-time shipping quotes and carriers are found in the checkout page.
In-stock items usually ship within 24-48 hours of order. Out of stock, custom and special order items will ship as soon as available and an email notification will be sent for items not available for immediate ship. If you have a requirement for an item on a specific date, please note that on your order and if we can't ship immediately, we will be in touch to let you know to choose an alternative. 
Custom Orders usually run 4-6 weeks depending on how busy our custom shop is.  If you need by a certain date, please contact us at customcowboy@vcn.com or 1-800-487-2692 to inquire about specific time frames.
We ship directly from our brick and mortar store in Cody Wyoming.